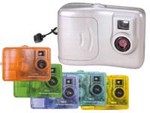 Brand:
World Office Products
Model:
65
Optical Zoom:
Megapixels:
0.1 MP
Camera Type:
Point & Shoot
About
GizmoPrices.com tries to be the place to help electronics buyers to do comparison shopping and to find the right products that fits the buyers' needs. The intelligent deals engine finds and surfaces the best deals for the specific model. The price history helps the buyers to make the decision just that bit of easier!
GizmoPrices.com is still adding new features. Stay tuned.
Browse
Check out the famous brands or product family:
Best Selling