Sony Mavica MVC FD75 0.4 MP Digital Camera - Metallic silver
New (0)

Refurbished (0)

Product Info
Buy It Now
Auction
Product General Info
Sony Mavica MVC FD75 0.4 MP Digital Camera - Metallic silver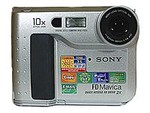 Brand: Sony
Model: FD75
Mpn: MVC-FD75-WM
Upc: 0027242586512
Description
With the Sony MVC-FD75 Digital Still Camera you can make sure every shot is the perfect picture. The powerful zoom lens gives you the flexibility and precision you need to capture professionally-polished images. If you like to get close to your subjects, use Auto Macro for shots up to 1 inch from your subject.Progressive Scan provides high quality still images by reading all the pixels on an imager (CCD) with a single pass. This one time pass over the imager delivers clean edges and an overall sharper picture for still images. This exclusive technology developed by Sony allows for double the speed when recording or playing back images. The high-speed motor allows you to save images to your floppy within seconds. The universal storage media of choice, floppy disks are extremely easy to use and inexpensive. Now you can stop worrying about expensive and exotic storage media. For easy image storage and hassle-free portability, the floppy is the format of choice. The Digital Mavica camera uses the universal JPEG compression format to store images on your floppy, providing you with excellent picture quality and allowing you to view your images on virtually any computer. Thanks to the universal floppy, you don't have to connect a mess of wires or load drivers and adapters. And you don't need to worry about compatibility problems. Simply insert the floppy in the disk drive and see how easy it is.
Expanded Product Features
Product Specification
Key Features
Camera Type: Point & Shoot
Optical Zoom: 10
Digital Zoom:
Sensor Resolution: 0.4 MP
Screen Size: 2.5"
Optical Sensor
Sensor Size: 1/4"
Sensor Type: CCD
Lense System
Lens For Sd:
Auto Focus Type:
Lens Type: Zoom lens
Focal Length Range:
Macro Focus Range:
Focus Adjustment: Automatic
Lens System Features:
Focal Length Quivalent To 35mm Camera:
Exposure
Max Shutter Speed: 1/4000 sec
Min Shutter Speed: 1/60 sec
Exposure Compensation: ±1.5 EV range, in 1/2 EV steps
Exposure Range:
Exposure Metering:
Exposure Modes: Automatic, Program
Light Sensitivity: ISO 100
Light Sensitivity Max: 100
Camera Flash
Flash Type: Built-in flash
Red Eye Reduction:
Flash Modes: Auto Mode, Fill-in Mode, OFF mode
Memory/Storage
Supported Flash Memory:
Integrated Memory Size:
Viewfinder
Viewfinder Type: None
Optical Viewfinder Type:
Viewfinder Field Coverage:
Viewfinder Magnification:
Dioptric Correction Range:
Dimension
Depth: 2.4"
Height: 4.1"
Width: 5.4"
Weight: 21.2oz.
Display
Display Type: LCD
Display Rotation: Built-in
Screen Details: LCD display - TFT active matrix - 2.5" - color
Display Size: 2.5"
microphone
Microphone Type: None
Microphone Operation Mode:
Connections
Connector Types:
Expansion Slot:
System Requirements for PC Connection
Operating System Supported:
Battery
Battery Form Factor:
File Format
Digital Video Format: MJPEG
Still Image Format: BMP, JPEG
Environmental Parameters
Min Operating Temperature:
Max Operating Temperature:
Other Features
Additional Features: Date/Time Stamp, Progressive Scan CCD System, RGB Primary Color Filter
Touchscreen: No
Face Detection: No
Shooting Modes:
Waterproof: No
Miscellaneous
Color: Metallic silver
Special Effects: Black & White, Negative Art, Sepia, Solarization
Video Capture:
About
GizmoPrices.com tries to be the place to help electronics buyers to do comparison shopping and to find the right products that fits the buyers' needs. The intelligent deals engine finds and surfaces the best deals for the specific model. The price history helps the buyers to make the decision just that bit of easier!
GizmoPrices.com is still adding new features. Stay tuned.
Browse
Check out the famous brands or product family:
Best Selling