Motion Computing LE1600 30GB, Wi-Fi, 12.1in - Gray
New (0)

Used (0)

Product Info
Buy It Now
Auction
Product General Info
Motion Computing LE1600 30GB, Wi-Fi, 12.1in - Gray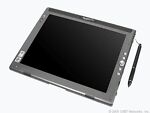 Brand: Motion Computing
Model: LE1600
MPN: 101.009.01
UPC: 047492009326, 0839810001699, 839810001699
Carrier: No cellular ability
Description
Ideal for frequent travelers, the Motion Computing LE1600 tablet PC has a slate design and is lightweight. You can be sure of finishing your tasks competently as this Motion Computing Wi-Fi tablet is powered by an ultra-low voltage Intel Pentium M 758 with 512 MB of DDR2 memory. You can get a clear view from any angle, thanks to the 12.1-inch digitized screen of this tablet PC. Corporate users with security concerns can bank on this Motion Computing Wi-Fi tablet as it includes a fingerprint reader and the Trusted Platform Module. With the rubberized digitizer stylus, writing on the Motion Computing LE1600's screen feels just like writing with a pen on a paper.
Product Specification
Key Features
Type: Tablet PC
Family Line:
Display Size: 12.1"
Hard Drive Capacity: 30
Operating System: Microsoft Windows XP
Internet Connectivity: Wi-Fi
Supported Text Formats:
Color: Gray
Processor:
Processor
Processor Manufacturer: Intel
Processor Type: Pentium M
Processor Speed: 1 Ghz
Display and Screen
Display Tech: TFT Active Matrix
Display Max. Resolution: 1280 x 768
Touch Screen Technology:
Digital Camera
Rear Camera Resolution: MP
Front Camera Resolution: MP
Connections and Expandability
Wireless capabilities: Bluetooth, WLAN 802.11a, WLAN 802.11b, WLAN 802.11g
Audio Input: Microphone
Audio Output: Headphones
Dimensions
Height: 9.64"
Width: 11.7"
Depth: 9.4"
Weight: 3.13 lb
Battery
Battery Technology: Lithium ion
Battery Run Time: 75 hours
Additional Technical Informations
Input Method: 5 Way Navigation Button, Digital Pen, Digitizer
Platform: PC
About
GizmoPrices.com tries to be the place to help electronics buyers to do comparison shopping and to find the right products that fits the buyers' needs. The intelligent deals engine finds and surfaces the best deals for the specific model. The price history helps the buyers to make the decision just that bit of easier!
GizmoPrices.com is still adding new features. Stay tuned.
Browse
Check out the famous brands or product family:
Best Selling